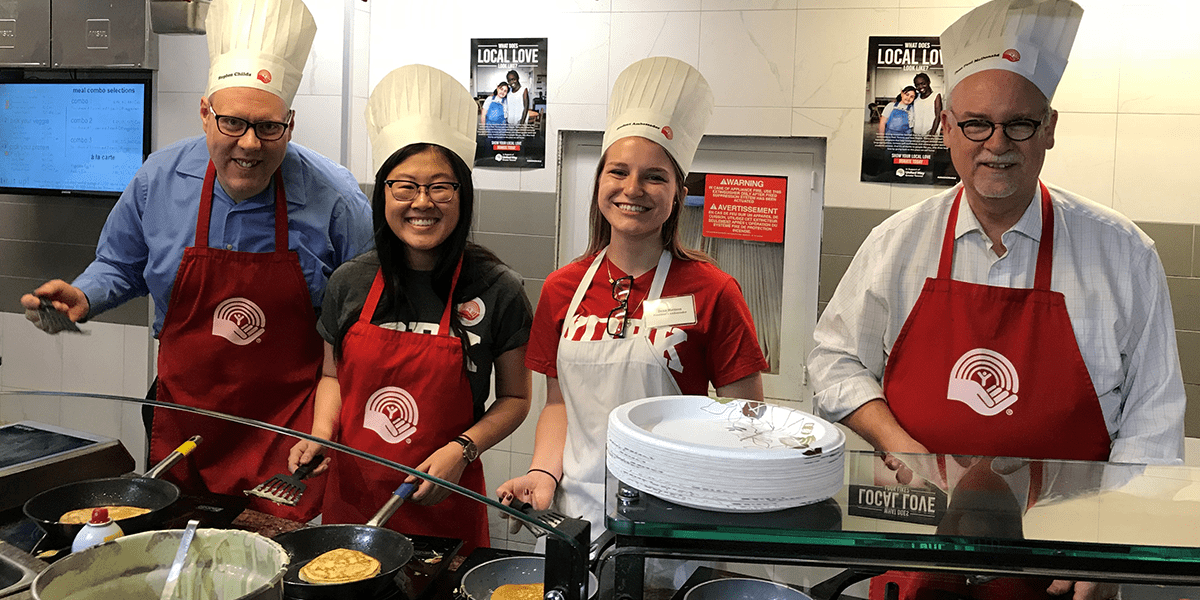 York Cares United Way Campaign
York Cares United Way Campaign
Each year the York community comes together to support the United Way Greater Toronto through the York Cares campaign. The campaign helps us consistently raises more than $170,000 in support of local organizations and programming – many of which directly impact York's students, staff and faculty.
Please join us in showing your local love this year by contributing to the United Way Greater Toronto from Nov. 6 to Dec. 6. This year's fundraising goal is $180,000. We are encouraging everyone at York to get involved in events and activities during the campaign, launching in November.
York Cares Campaign Pancake Breakfast
Get a sweet start to your morning. Join us on Nov. 15 from 8:30-10:30am in the Central Square Cafeteria for the annual United Way Pancake Breakfast and help build momentum and spread the word about the workplace campaign.
For only a toonie you can purchase two delicious pancakes flipped by York's senior administrators and the president's student ambassadors. All proceeds will go towards the 2019 York Cares Campaign in support of United Way.
CN Tower Climb
Students, staff and faculty are encouraged to step up at the annual CN Tower Climb. Your small steps can make a huge difference for local communities. Join us as we climb 1,776 steps to the top of the CN Tower and help communities rise from poverty to possibility. Choosing to climb is your way of taking positive action and showing your local love.
Join us this year on Friday, Nov. 2 at the Metro Toronto Convention Centre for the Student Climb between 6-10am.
So, are you ready to step up this year?
Register for the climb with the "York University-York Cares" team or register your own team, just be sure to indicate that York University is the school or workplace to credit and include York University in the team name so we can celebrate you at the top and ensure your success gets credited in our 2019 York Cares campaign!
If you have any questions, please email yucares@yorku.ca
And don't forget to share your pics using the hashtag #yucares
This Is What Your Local Love Looks Like
Ever wonder what your donation to United Way looks like? These are the stories of people who faced barriers - and overcame them – thanks to donors like you.
How to Give
The York staff and faculty community will be emailed their own personalized electronic pledge form on Nov 6. Please check your email inbox to find your unique giving link. Contact yucares@yorku.ca if you encounter any issues, or to request a paper pledge form.
How much should I give?      
By giving to United Way, you can be assured your dollars are having an impact on the lives of many.  Here are just some examples of the impact donors make:
$70 ($2.69 per pay*) provides one homeless man with three employment counselling sessions.
$100 ($3.85 per pay) provides a daily snack (for three weeks) for 30 children, promoting healthy eating habits.
$365 ($14.04 per pay) provides one skilled newcomer with eight hours of one-on-one employment counselling, and 15 hours of job-search training, interview preparation and resume-building workshops, helping them find employment matching their expertise and education.
$480 ($18.46 per pay) provides a senior with a weekly visit (for one year) from a friendly, trained volunteer who encourages independent living.
$800 ($30.77 per pay) provides an opportunity for 100 neighbourhood residents to gather, identify common challenges and develop local solutions.
$900 ($34.62 per pay) provides a home visiting service related to parenting skills,  enhancing children's growth and development for a family at risk.
$1,000 ($38.46 per pay) provides an education program (on disabilities and medical conditions) for children in grades 1 to 6, helping them learn about accepting differences in themselves and others.
$1,320 ($50.77 per pay) provides 10 weeks of swim lessons to 12 children.
$2,000 ($76.92 per pay) allows three children from an underserved neighbourhood to attend a homework club two days a week (for one school year), improving their grades and enhancing self-confidence.
$3,000 ($115.38 per pay) allows at-risk youth to participate in an "Introduction to Media" course—with topics that include photojournalism, short filmmaking, music recording and opinion writing—putting them on the path to self-empowerment, informed decision-making and future employment possibilities.
*Based on bi-weekly pay schedule
Are You A Leader?
Leadership donors are a group of dedicated individuals who love where they live and want to make a difference when it comes to fighting local poverty in all its forms by increasing their impact.
By giving $1,200 or more annually, you'll become a part of an unstoppable force for community change, joining thousands of other leadership donors in Peel, Toronto and York Region's record breaking uprising of care.
The Alice and Grant Burton Challenge Gift will provide up to $1 million to match all leadership donations ($1200 or more) and donation increases that directly support United Way's work in the community*.
How this match works:
New Donor
As a first-time Leadership donor, when you make a gift of $1,200 or more to United Way Greater Toronto, the Alice and Grant Burton Challenge Gift will match your gift, dollar for dollar.
Renewing Donor
As an existing Leadership donor increasing your gift to United Way Greater Toronto, the Alice and Grant Burton Challenge Gift will match your increase. For example, if you increase your donation from $2,000 last year to $2,500 this year, the Grant will match $500.
*This Challenge Grant match only applies to gifts to United Way Greater Toronto; not to gifts made to other registered charities.
How to Get Involved
Our 2019 York Cares Campaign is underway and we need your help. We're looking for positive, energetic individuals to help engage and educate their fellow colleagues by volunteering to help plan, design and execute key campaign strategies and events.
Email yucares@yorku.ca to volunteer with this year's campaign.
Special Events
Want to plan an event within your faculty, department or unit to raise awareness for the campaign? Please email us at yucares@yorku.ca to let us know about your amazing idea or event.
Here are suggestions for fun things you can do:
Silent auction
Group challenge games event
Book sale
Rummage sale
Costume contest
Spelling bee
Bake sale
Frequently Asked Questions
Why should I give to the United Way Greater Toronto?
The United Way creates opportunities for a better life for everyone in our communities. They initiate change by targeting the root cause of social issues in our communities. By giving to United Way, you are investing in your own community – where you live, work, learn and play. The United Way works together with local social service programs and initiatives with the goal of ensuring a strong social support network. This network of services in turn strengthens the entire community. Your contribution helps to build strong agencies, to develop partnerships to address complex social issues and to advocate on your community's behalf, so that every contribution brings as much impact as possible to the community. The YorkU community is also directly impacted by United Way and its agencies, for example through partnerships and placements via our Faculties. See United Way's list of member agencies to see if there are any you may already be supporting or have partnered with in the past.
How much of my donation goes to administrative costs?
In 2013, on average across the country, local United Ways spend 15 per cent of total revenue on fundraising and administration costs, which means that 85 cents of every dollar raised goes directly back to the community. United Ways across the country continue to strive to ensure that the funds raised are used as efficiently and effectively as possible. They rely on the generous contributions of community members and engage thousands of volunteers every year to keep costs as low as possible. More information about the United Way Greater Toronto's administrative costs can be found by visiting http://www.unitedwaytyr.com/our-commitment-to-you?
What agencies does the United Way fund?
United Way Toronto and York Region funds a large number of agencies. Here is a list of them all!
How do I get an official tax receipt for my donation?
If you make a one-time donation online via credit card, your tax receipt will be emailed immediately upon making your gift. If you pay by cheque you will be mailed a receipt for 2019, unless your gift is post-dated to the new year, and then your receipt will be for 2020. Payroll deduction donations will appear on your 2020 York University T4 slip since these deductions will commence in the new year.
Does the United Way fund religious organizations?
The United Way is non-partisan and non-religious. They fund primarily based on local community needs, regardless of religious affiliation. Some of the programs they fund do have religious origins, such as the Young Men's Christian Association (YMCA), the Young Women Christian Association (YWCA) and Jewish Family Services. However, the services and programs offered by these agencies are open to all individuals regardless of religious affiliation.
Can I top up my online donation after it has been submitted?
You will still be able to access your donation account using your personalized link and password, and may then enter and submit a subsequent donation.
How do I request a paper pledge form, and where should I mail my donation?
Please email yucares@yorku.ca to request a paper pledge form. This will be delivered to your campus address and will include a return addressed envelope to return the completed form to the Division of Advancement, and will from there be delivered to United Way Greater Toronto. If you are posting this directly to United Way offices, please ensure your form includes the location ID for York University so that your donation will be attributed to YorkU's campaign. This ID number is 1816934.
Can I still participate in York University's campaign as a retiree?
Please request a paper pledge form via email to yucares@yorku.ca as you will not have access to donate online unless you have an active York U email address.
About the United Way Greater Toronto
United Way is a worldwide not-for-profit movement. In Canada, it operates in more than 100 communities. Each United Way raises support locally, directly responding to the needs of the community.
As the largest non-governmental sector supporter of social services in the region, the United Way Greater Toronto is dedicated to creating the opportunities people need to improve their lives and build a better future. Their work is fueled by groundbreaking research and powerful partnerships, which allow them to identify gaps and responsibly mobilize volunteer and financial resources for the most direct impact: effecting positive and lasting change, right here where we all live, work and raise our families.