York University Alumni Book Club
Stay connected with other York alumni through our new virtual book club.
In this online community, alumni can enjoy books related to lifelong learning, social issues, literature, psychology, and other user-submitted ideas. There is no cost to participate – you just have to get a copy of the book to enjoy.
How it works
Book club members will connect through a private online forum where they can discuss the current book and network with each other. The group will spend two months on each book, so you'll have plenty of time to read. You can sign up and learn more at: www.pbc.guru/yorku
Why should you join?
As a member, you will have an opportunity to both connect with fellow alumni and be part of a lifelong learning community!
To start the first book, Educated, by Tara Westover, with fellow book club members, sign-up by April 19. Otherwise, feel free to sign up at any time!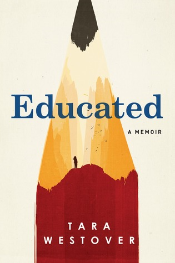 Our inaugural book, Educated, is an account of the struggle for self-invention. It is a tale of fierce family loyalty and of the grief that comes with severing the closest of ties. With the acute insight that distinguishes all great writers, Westover has crafted a universal coming-of-age story that gets to the heart of what an education is and what it offers: the perspective to see one's life through new eyes and the will to change it.