Stacey Ann Berry (Hons. BA '08, MPPAL '14) is an author, speaker, founder and president of Bstellar Group Inc., a government relations and professional development firm. With her inspiring energy, passion, network and skills honed by two degrees from York, Stacey helps her clients navigate the complexity of government. We caught up with Stacey to chat about her book tour, the evolution of her business and to get a sense of her connection to Black History Month.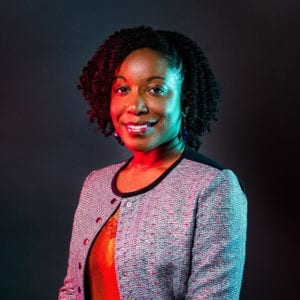 Q: What were your most important lessons from York? Who inspired you?
A: I learned it's important to understand foundational principles; that research and gathering the facts is critical but is also essential to get practical experience. The MPPAL program was a great balance of theory and practice. Professors like Ian Greene and Naomi Couto stand out as wonderful role models and mentors. They both exemplify a prof who really goes beyond by being approachable, caring about your future, and being passionate about teaching. I have a new appreciation for the students who I mentor, some attend York and many are pursuing grad school, law school and med school.
Q: How did you move from entrepreneurship as a side-gig to making it your full-time career? What do you like about it?
A: After being laid off from my job with the federal government in October 2019, I was unable to find a job. I was forced to take a leap of faith and put my entrepreneurial skills to the test. I initially started my company, Bstellar Consulting Group in 2015 which provided public speaking, networking and event planning workshops. I also did some work as a project manager for a non-profit organization and helped them develop a health awareness campaign. Upon recent reflection, I noticed the tech community and non-profit sector was having a difficult time navigating and engaging the government. Given my background in entrepreneurship, government community development and public policy, I realized that I have wide range of unique skills that were needed in the marketplace. In December 2019, I decided to incorporate my company as Bstellar Group Inc. in order to provide government relations and strategy consulting services with a special focus on tech companies and incubators.
What I like most about being an entrepreneur is being in charge of my schedule, creating my own opportunities and being able to think outside the box. There are no limits to my earning potential or growth of my company. The type of work I do is interesting and challenging but it is also very impactful. I am learning to trust my skills, rely on my instincts and take calculated risks, while leveraging best practices.
Q: How does being part of the York community help you as an entrepreneur?
A: York is the best among the schools I attended. As an alumna, I appreciate the accelerator community, as well as events hosted by the school of public policy. It's inspiring to see accelerator programs that support women entrepreneurs by providing business education, resources female-centred mentorship like the ELLA Accelerator Program at York (formerly called the Fempower program). I have observed innovative pitch competitions and connected with so many great professionals and entrepreneurs through various networking events hosted by the school of public policy. I am also a member of the York University Black Alumni Network and the York Founders Circle network. What I appreciate most about York, is the entrepreneurial spirit, the social justice community and a common value of being connected and supportive. There is a strong feeling of comradery.
Q: What advice would you give to current York students?
A: Do everything with excellence, work hard and stand firm in your values. Don't comprise who you are for success or opportunity. Use your voice and speak up when you see something that's wrong – and don't take no for an answer! Be persistent. You are going to face rejections in life, but you have to build resilience to rise above obstacles.
Q: Tell us about your book.
A: I released my book Deeper Reflections of Life: Words to Inspire the Heart and Uplift the Soul in 2018, as a dedication to my mom who passed away in 2016. My book is a collection of faith-inspired poetry with a special section about my mother which includes notes she gave me over the years I receive excellent feedback from my readers about how they have been encouraged, inspired and motivated by my poetry and message in my book. I will be donation a percentage of the proceeds from my book to the Olive Branch of Hope, a charity that supports black women battling cancer. I am also the co-author of a best-selling book, 365 Empowering Stories, which is a compilation of personal stories written by several entrepreneurs and professionals from Toronto. Next, I plan to publish book for entrepreneurs.
Q: What does Black History Month mean to you?
A: Black history is everyone's history. The contributions of black people have added tremendous value to society in multiple sectors and industries, such as, S.T.E.M, arts and politics. The fight for civil rights has benefited all immigrants and people of colour who face economic and social barriers. Yes, there are still struggles, inequalities, challenges, and certainly misrepresentation through media and underrepresentation in numerous sectors– but Black History allows society to acknowledge and celebrate black people who broke barriers, exemplify excellence, demonstrate resilience and built a legacy that benefits everyone.
Find Stacey on Instagram and Twitter at @bstellargroup and on LinkedIn at StaceyAnnBerry. To learn more about her journey as an author follow @deeperreflectionsoflife on Instagram.