Jemaine Wallace is Vice Principal at Rawlinson Community School in Toronto. In addition to his time as VP, as a graduate of the Kinesiology program, Jemaine has coached student sports including basketball, soccer and track and field. Jemaine also volunteers his time in various education organizations supporting Black students. We caught up with Jemaine to learn more about his journey from student to alumnus.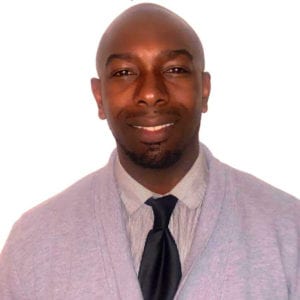 Q: What made you decide to study at York?
A: I decided to study at York University because I was passionate about physical activity, nutrition, mental health and the human body, and I wanted to pursue a degree in kinesiology. I knew the kinesiology program at York would allow me to have opportunities for future careers in everything from sports business, through the York University Sports Administration Association certificate program, or physical therapy and education. Joining friends who I knew would be attending York factored into why I chose York.
Q: Do you have a favourite memory or place on campus?
A: My favourite memory at York was being part of the York University Sports Administration certificate program. As a fundamental part of the certificate program, the York University Sport Administration Association was a student-run organization that provides opportunities for members to bridge the gap between classroom learning and the sport industry through organizing sport-oriented events and building partnerships with sport-related organizations.
Some of the memorable events that I helped coordinate, plan and volunteer for included a sports business conference, a career fair, wellness initiatives for corporations and soccer at a local secondary school. Meeting different people from the sports world from known current and retired athletes, media personnel who were on television, and sporting companies such as Maple Leaf Sports & Entertainment, was a wonderful experience.
Q: How did your time at York prepare you for your career?
A: York prepared me for my career in education by introducing me to people of diverse backgrounds, which in turn helped me understand where I came from and strengthened my beliefs and values. I was amazed and appreciative that I was able to learn and relate to experiences other than my own and share and communicate with so many people about their lives and experiences.
In my role as a vice principal, I try to bring together a diverse group of people to work towards a common learning goal about a problem of practice. I've had to shift my thinking and understand that not everyone is on the same continuum I'm on. I realize that everyone's experiences, values, and beliefs, even though they might be different from my own, are a learning opportunity for me to see where a common medium can be found, so that we best benefit the students we are supporting. 
Q: How has your career evolved since graduating?
A: After graduating from York, I attended teachers' college in Buffalo, New York where I obtained my Master of Education (MEd). Soon after, I was hired by the Toronto District School Board (TDSB) working as an occasional teacher for three years. In this role, I travelled and worked in many schools across Toronto, sometimes eating my lunch in my car in between two half-day jobs. The job took me everywhere from Etobicoke to Scarborough, working with various grades and subjects from kindergarten gym, to grade eight science.
Once I was hired in a permanent teacher role, I settled in to teaching mainly the junior grades and working part time on the weekends in a hospital as a food service helper. As a teacher, I coached many sports, including basketball, soccer and track and field, and volunteered in education organizations supporting Black students. A retiring veteran teacher working in the next classroom saw my passion and work ethic in teaching and suggested that I would make a good vice principal. From there I was honoured and inspired by her suggestion and began to take the necessary steps to become an administrator.
Q: What's the most fulfilling thing about your job? The most challenging?
A: The most fulfilling thing about my job is building trusting relationships with the students and staff. Interacting with everyone in a school setting is critical to empowering everyone to believe that they are an integral part of the team. When people trust one another, they are more likely to take the risks needed to innovate and to make significant improvements to their practices. Once trust is established and an environment where both staff and students feel brave to share their truth, we create norms in the school that value constructive debate about best practices.
The most difficult thing about my job is challenging the systemic barriers in education that create inequalities for racialized staff and students. Creating spaces for courageous conversations, challenging privilege, and calling out racism are all are very emotionally taxing, which can create fatigue in your mind and body. Finding allies, understanding that not everyone is going to agree with you, and realizing the wheels of social justice move slow, are all things I reflect on in order to move forward and create a state of mind where I can see positivity and optimism with any challenge that may present itself.