Adrian Camara (BA '11) is a Calgary based entrepreneur and lawyer. He studied History at Glendon College and went on to complete a law degree at the University of Western Ontario.
Adrian is the CEO of Athennian, a modern entity and corporate secretary management platform. We caught up with him to talk about his time at Glendon and his career as an entrepreneur.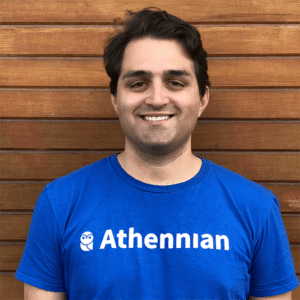 Q: How did you become an entrepreneur?
A: I graduated Glendon in 2011 and the economy was bad at that time in Ontario. I decided to go to Law school at Western and then I worked for a few years. The Glendon experience was good because I had to take a substantial percentage of my courses in another language. Language is a conceptual framework for the world and it forces you to think differently about things. That's important in entrepreneurship when you're constantly solving problems which are in front of you and having to be creative.
I didn't have a lot of French capacity going into Glendon so it required me to learn fast in order to get results. This is also something you need to do in entrepreneurship when you're building a business or operating a business. You must learn fast because the business can't afford for you to make mistakes.
Q: Tell us about your company Athennian and your role as CEO.
A: It's a global company, we have around 2000 customers in 18 countries. Organizations that have high volumes of companies inside of their corporate structure use our software to manage the legal, compliance, tax and finance complexities of large and often cross border corporate structures.
We also work with law firms that tend to manage high volumes of entities. Our platform essentially automates corporate law and corporate legal work.
We started the company in 2016 and since then we've become a market leader in this space.
Q: What made you choose to study History at Glendon?
A: I was fairly disappointed with how French was taught in high school which is essentially just grammar. I wanted to learn more substantial French where you're learning by doing. At Glendon there's those compelling moments where your brain is forced to use it and adapt to your surroundings. It was also a good location – you're in the city but you have space.
I liked that there were lots of international students there. We always used to get up early and watch soccer. That was a lot of fun.
Q: Do you have any advice for those interested in becoming an entrepreneur?
A: The biggest piece of advice I give people is that if they want truth, request cash in business. A lot of people, especially if you're doing something in technology or something different, can get excited about it and that can give you a false sense of validation.
If you have a university education the risk curve on entrepreneurship, whilst a lot, isn't as bad as it used to be. Try and get some experience and a network within the industry you want to work in, then leave and start your company. That allows you to accelerate up the ladder fast.
Q: What's next for you Adrian?
A: Right now we're buying an American company so we're probably going to open an office in Chicago or New York. And then I think we'll see from there!