Emmy and Peabody award-winning investigative journalist and filmmaker Habiba Nosheen (MA '08), recently sat down with Julie Lafford, York's Executive Director of Alumni Engagement, to reflect on her time at York and her life since leaving campus.
Born in Pakist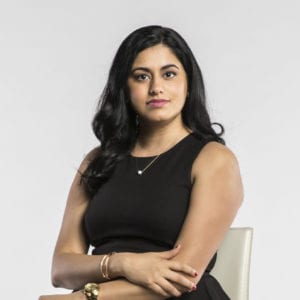 an, Nosheen grew up in Canada, where she immigrated with her family at the age of nine as a refugee. In 2013, she directed, reported, and narrated the film, Outlawed in Pakistan, winning the Emmy for Outstanding Research. She went on to win two more Emmy Awards and a Peabody Award and has worked with leading news outlets, including NPR, Frontline, 60 Minutes and The Fifth Estate, and has written for The New York Times, TIME, The Washington Post and ProPublica. She recently left her role at CBC and has started her own documentary production company.
Q: Why did you choose to study in York?
A: I chose to do my graduate work at York for multiple reasons. One was the generous scholarship that I was offered by York, but also the faculty was really well known and when I met them, I knew they would be able to support the kind of research that I wanted to do.
Q: What led you to pursue a career in journalism?
A: I became a journalist completely randomly; I thought I was going to be a professor of Women's Studies. While doing my graduate work at York, I was on my way to Pakistan to conduct the field research for my master's degree when my professor told a friend of hers who worked at CBC about my research. That friend was Anna Maria Tremonti (LLD Hons. '18), who was the host of CBC's The Current. Anna Maria seemed intrigued about the topic of my study and asked if I would do a radio documentary about my research. Then, a member of her team met with me for a crash course on how to use a recorder properly for radio, and with that I was off to Pakistan. When I came back, I worked with the team at The Current to put together a radio documentary about my field work.
It turned out to be the most gratifying intellectual project that I had ever been part of. Unlike a dissertation that perhaps only three people in the entire world would read, this was a doc that went on The Current and was heard by several hundred thousand people. I was hooked, and that's how I became a journalist.
Q: Tell me about filming Outlawed in Pakistan. How did your Women's Studies degree prepare you to approach this subject?
A: Some people may find it surprising, but I use my training in Women's Studies almost every day as an investigative journalist. Journalists tell stories from different perspectives and having the academic background in Women's Studies gave me an opportunity to think about how we choose which voices are heard and how we represent the experiences of other people in an ethical way.
Back in 2009, I went to Pakistan with the goal of speaking to as many women as possible who had unique stories to tell. I was seeking voices of women who defy the norm. That's when I meet a young girl named Kainat Soomro. This was a young woman who was taking four men to the Pakistani courts for allegedly raping her. For those unfamiliar with Pakistan, it is very unusual for a woman to do this in that country. For the next five years, I kept going back to Pakistan with my co-director, who I met while doing my master's degree at Columbia University's Graduate Journalism School. During vacations, instead of taking time to chill out at the beach, we went off to Pakistan with our camera and followed the story. Eventually, the documentary went to Sundance Film Festival and it aired both on CBC as well as PBS Frontline and was seen around the world.
Q: What is the most challenging part of your job?
A: As a journalist, it's important to make sure that we're telling all sides of a story. We reach out to everyone who we possibly can, to present multiple point-of-views.
So even while the viewer may not agree with a subject's worldview, I think it's important as a journalist for me to remain objective and to allow for diverse viewpoints to be represented in my reporting. It allows us insight when you can hear from people directly, instead of me telling you what they think. But at times, this can be a difficult.
For example, I did a story about a massacre in Guatemala for a radio program, This American Life titled, "What Happened in Dos Erros?" and one of the things we did for that piece was interview the men who confessed to having murdered hundreds of people, including children. For that interview I prepared by reading hundreds of pages of extremely brutal details about what these men had done, then I spent 12 hours in an undisclosed location, with my team, asking them about their violent crimes. The details often stay with you for a very long time.
I see myself as a substitute for the audience and I ask the questions they would ask, such as "Why did you do it?" But I am also the filter in a way, I have to consume facts about events, like in this case the massacre, and figure out what amount of detail is important for the public to know, and what details are just not in the public good. But that requires, at times, taking in a lot of information that can be very disturbing.
Q: That sounds immensely challenging. What's the most fulfilling thing about your job?
A: I get to ask all sorts of really nosy questions for a living. It's my dream job! Seriously, I do ask in a conscientious way. At the end of the day, you're asking questions of powerful people and in your questioning, you are holding them to account. I think that's the essence of the very fulfilling role journalists play.
Q: What advice would you give York students today?
A: The advice I would give students at York or students anywhere would be, own your differences. As a refugee kid who arrived in Canada with very minimal means, I remember the times we didn't have money for clothes or sometimes even enough food. I don't shy away from sharing those experiences. Those experiences have taught me so much about privilege and help me connect with people who I interview.
So, I always embrace that my differences – which include my ability to speak multiple languages, my skin colour– all these things mean I am different in many ways from the other people who have a seat at the news room table. Differences make you who you are and are assets you can bring to any organization.