Now in its 19th year, the Bryden Alumni Awards celebrate outstanding York University alumni who have achieved the extraordinary and made remarkable contributions to their fields, communities and the University. The leaders who will be honoured Nov. 21, 2019 at a celebration at Arcadian Court are:
Eva Marszewski (O.Ont, LSM, BA '70, LLB '73) Founder & Director, Peacebuilders International (Canada)
Robert Krembil (C.M., MBA '71, LLD '00) President & CEO, Chiefswood Investors Ltd.
Suzanne Katsi'tsiarihshion Brant (MES '05) President, First Nations Technical Institute
Kimberly Badal (BSc '12) Co-Founder, Caribbean Cancer Research Initiative
"This year's Bryden Alumni Award recipients illustrate the achievements and impact that York University alumni have locally and internationally," said Jeff O'Hagan, Vice-President Advancement. "Like the honourees in previous years, our 2019 recipients set an example for students and alumni, and remind us of the change that is possible with a York University degree. We look forward to celebrating them at the awards ceremony this fall."
There are four categories of Bryden Alumni Awards, each of which honour a distinct set of achievements and contributions.
Outstanding Achievement
An alumnus or alumna who has achieved distinction in their field and whose integrity and ability inspire alumni, faculty, staff and students.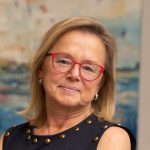 Eva Marszewski
Eva Marszewski is passionate about restorative justice and creating more just and peaceful communities that support youth to succeed. She started running restorative justice programs for youth in Toronto in 2002. Eva studied at York University in Liberal Arts & Professional Studies as well as Osgoode Hall Law School. She is a former Adjunct Professor at Osgoode Hall Law School, where she taught "Law and Social Change: Restorative Justice". Eva was one of the founders of the SPIDR youth initiative and YouCAN! She was a member of the Board of Directors of the Association for Conflict Resolution (ACR), and the Executive of the Ontario Bar Association, ADR Section. Eva is currently a member of the Board of Directors of Smart Justice Network of Canada.
For her pioneering work in adapting Peacebuilding Circles to Toronto's diverse communities, Eva was awarded the prestigious Law Society Medal from the Law Society of Upper Canada, the YMCA Peace Medallion in 2006, the Canadian Criminal Justice Association' (CCJA) Crime Prevention Award in 2007, and the Dianne Martin Medal for Social Justice Through Law in 2009. Eva became a fellow of the Ashoka Foundation in 2010 and was the first recipient of the Roy McMurtry Community Service Award in 2013. Eva was awarded the 2015 Order of Ontario, which is the province's highest official honour, recognizing her individual excellence and achievement in restorative justice. In 2019, Eva's career contributions were recognized by the Ontario Bar Association with an Award for Distinguished Service.

Outstanding Contribution
An alumnus or alumna who has made a significant contribution to the advancement of York and its students through exceptional service, commitment and/or philanthropic contributions.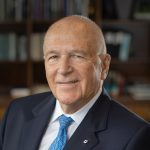 Robert Krembil
Robert Krembil is the President of Chiefswood Holdings Limited and its subsidiaries. He is the Chairman of the Krembil Foundation, a Director and founding partner of EdgePoint Investment Group, and a member of the Dean's Advisory Council of Schulich School of Business.
Krembil studied at the Schulich School of Business, the University of Saskatchewan (BA '63) and the Institute of Chartered Financial Analysts. He received a Doctors of Laws (honoris causa) from York in 2000. In 2005 he became a Member of the Order of Canada.
Through the Krembil Foundation, Robert began investing in student scholarships at Schulich in 2001. Since then, more than 106 Krembil Scholars have benefited from his visionary support that now totals more than $7.4 million. With an initial $2 million pledge in 2001, the Robert Krembil Scholarship of Merit was established to cover full tuition costs in addition to a living subsidy for MBA students. Likewise, the Robert Krembil Entrance Award, the Robert Krembil MBA Award and the Robert Krembil PhD Award funded tuition costs in a significant way. In 2002, he committed $2 million to the Schulich Executive Education Centre.
Robert has over 50 years' experience as an investment analyst and portfolio manager. Prior to July 2000, he was Chairman and CEO of Trimark Financial Corporation, which he co-founded in 1981.

Tentanda Via
An alumnus or alumna who has demonstrated innovative, unconventional and daring leadership and success, reflecting the University's motto – "The Way Must Be Tried".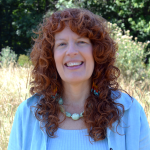 Suzanne Katsi'tsiarihshion Brant
As President of First Nations Technical Institute (FNTI), Suzanne Brant is focused on ensuring that Indigenous Knowledge is woven through all aspects of the Institute, and is committed to the idea that 'responsive education' remains the hallmark of her vision. Suzanne studied at York University in Environmental Studies with a focus on Indigenous post-secondary programming and a degree in Integrated Medicine. Suzanne is a current and founding board member of Honouring Indigenous Peoples. She is a past board member of: Aboriginal Institutes Consortium (Vice-Chair), St. Lawrence College Board of Governors, Tyendinaga Head Start program, founding board member of CKWE Tyendinaga radio, and Great Lakes United (international). She is also a committee member of: Remedial Action Plan/Bay of Quinte, Environmental Advisory committee/ Mohawks of Bay of Quinte, Health Advisory committee/Mohawks of Bay of Quinte, and then Haudenosaunee Environmental Task Force.
Suzanne has a strong commitment to Haudenosaunee language, culture and traditions. She is an accomplished visual artist and photographer who has exhibited her work at the Woodland Cultural Centre, Brantford and Gallery 121, Belleville. She is a seasoned gardener and grower, specializing in Haudenosaunee traditional food systems and medicinal plants. Suzanne has four incredible children and two beautiful granddaughters.

One to Watch
An alumnus or alumna who has made a significant impact in their field and/or community within 15 years of a bachelor's degree or 10 years of a professional/ graduate degree.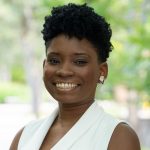 Kimberly Badal
Kimberly Badal is a cancer researcher and advocate working in the Caribbean region. In August 2016, Kimberly founded the Caribbean Cancer Research Initiative (CCRI), a non-profit organization focused on evidence-based solutions for cancer prevention and management. She believes that there will be radical improvement when she is able to shape her research agenda and measure success based on the patient experience. CCRI is currently working on their flagship project – the introduction of cancer patient navigation to the Caribbean – helping guide patients and families through the cancer care system. They are also setting up genetic testing and counselling services for patients at high risk for cancer and other illnesses.
Kimberly studied Biomedical Science at York University and a Master of Science in Biomedical Science at St. Radboud University, The Netherlands. She is currently pursuing her PhD in Molecular Genetics at the University of the West Indies.
Sponsored by premiere sponsor TD Insurance, the awards are named after the late Bruce Bryden (BA '64), founder of the York University Alumni Association and the first alumni chair of the York University Board of Governors. A passionate member of the community for nearly 30 years, Bryden's inspiring commitment, vision and contributions helped shape York into the vibrant and innovative university it is today.
Visit alumniandfriends.yorku.ca/connect/events/bryden-alumni-awards/join-us/ for more information about the Bryden Awards, to learn more about the recipients, or to purchase tickets.